Welcome to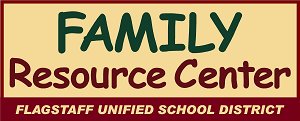 Lucy Garcia
Family Resource Center Coordinator
lgarcia@fusd1.org
Phone: 928-774-1103
Fax: 928-774-1242
Share your thoughts and read more about the Family Resource Center on our Facebook page! (You will need to log into your Facebook account to view).

The FRC offers tutoring for ALL FUSD STUDENTS in grades K-12. Tutoring is offered by FUSD teachers from 3:30 to 5:30 p.m. each afternoon, Monday through Thursday. Please contact the FRC at 774-1103 to take advantage of this extra academic support.


4000 North Cummings Street* Flagstaff, AZ 86004
(928) 774-1103
Open Year-Round
Monday-Thursday 8:00 a.m. - 6:00 p.m.
Friday 8:00 a.m. - 3:00 p.m.
All Services are Free!
K-12 Tutoring by FUSD Certified Teachers
FUSD School Information & Forms
Community Resources & Referrals
Computer & Internet Access
Adult Basic Computer Training
Parenting Information & Books
Children's Books & Videos Available for Checkout
Interpreter Services (Spanish)
Call for a Monthly Calendar of Activities or see more information online at:
www.fusd1.org/frc
Sponsored by Flagstaff Unified School District
*Located in the former Christensen Elementary School north of the Flagstaff Mall.