Welcome to Food Services
Food Service welcomes you to our homepage. Our responsibilities include ensuring that student, staff and community needs are met in an efficient manner.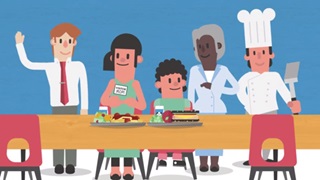 PLEASE BE ADVISED THAT THERE IS A 30-DAY ROLLOVER "GRACE PERIOD" AT THE BEGINNING OF THE SCHOOL YEAR (for current FUSD students only - does not apply to new students to FUSD). This means we will use a student's eligibility status (free, reduced, or paid) from the previous school year for the first 30 operating days of school or until a Free and Reduced Price School Meals Household Application is processed.
To make online payments please visit www.myschoolbucks.com there is no fee to add money to your student's account. For further information or any questions about your student's account please contact the Food Service office at the phone numbers below.

Please complete a new Free and Reduced Price School Meals Household Application every school year - preferably before the 30-day grace period ends. Visit http://fusd1.heartlandapps.com to complete the application (available as of July 11, 2016 for the 2016-2017 school year). Once meal applications are received at the Food Service office, applications take approximately
10 business days
to be processed
.
Please be sure to apply quickly if you need this assistance. Once processed, a determination letter will be mailed to the address provided on the application. Parents/guardians are reminded to complete one application per household (not per child).
Our desire is to provide you with up-to-date information in the area of Food Service and the Child Nutrition Program.
The Food Service offices, located on the lower level of the FUSD Administration building (3285 E. Sparrow Avenue in Flagstaff), are open from 7:00 a.m. to 4:00 p.m. Monday through Friday. We invite you to explore our web pages and hope that you will find them useful. If you have any comments, questions or suggestions, please contact us (928-527-6090).