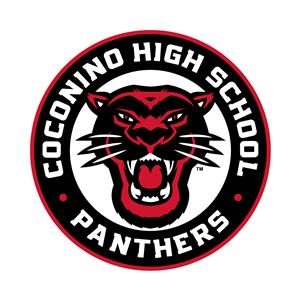 THE MISSION OF COCONINO HIGH SCHOOL ATHLETICS IS TO PROVIDE OPPORTUNITIES, COMPETITION AND TEAMWORK THROUGH STUDENT-ATHLETE INTERACTION WITH FELLOW STUDENTS AND COACHES WHILE INSTILLING AN ATTITUDE OF SUCCESS AND INTEGRITY.
Welcome to Panther Athletics
We are currently working with the county health department to determine the numbers of spectators permitted at events. At this time we are not permitted to have events at all based upon the metrics provided by the AIA. Practices are currently being held for all fall sports in anticipation of the metrics improving. We will provide more information as we know it.
The AIA has announced that for the upcoming 20-21 school year if a student had a physical done last year ON THE AIA form, they will only need to do the 15.7A portion of the packet. This does not include the doctor's form to eliminate the need for people to go to the doctor's office. Please be aware you do not need to do 15.7B IF your student had a physical this past school year on the AIA form. If your student is an incoming freshman or is coming to school for the first time in Arizona, they will need to get the entire physical done.

Thank you, Mr. Eric Freas