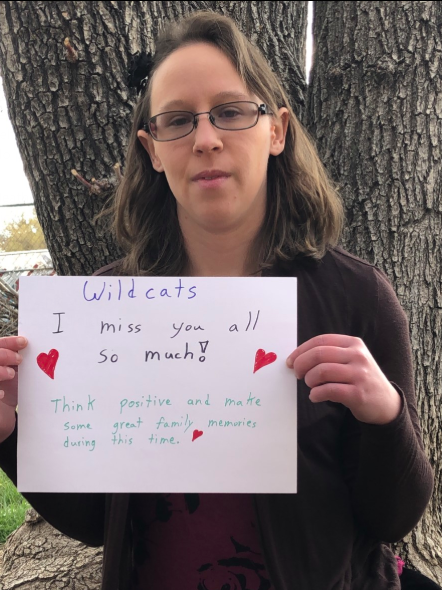 Phone: 928-527-4150 ext. 2115
Email:
Degrees and Certifications:
Ms.

Jess Edwards

You made it to summer! Great job Wildcats!

Please check you emails for personalized certificates and a photo slideshow for 1st grade memories. This was defentily a unique way to end the 2019-2020 school year!

Staff video for our Cromer students and families: https://www.youtube.com/watch?v=FAfwu9eSxfw&feature=youtu.be

Talent Show/5th Grade Yearbook: https://www.youtube.com/watch?v=6ZBsej8OHkA&feature=youtu.be

Summer Resources:

*Lexia: All students will now be able to access this program. Login information and instructions sent via email. The program can be accessed at the Lexia Website or it can be accessed through the Lexia Core5 Reading app. Please do not help your child so they can get the best out of this program. For most students, Lexia will end on June 30th.

*Zearn: Math practice based on our math curriculum can be found at the following website: Zearn Math. Students have logged into this on school I-Pads. Login information emailed. Zearn will continue all summer.

The previous FUSD Digital Hub assignments are located to the left under Weekly Materials/Content During Closure. There are also review videos for math and phonemic awareness, and read alouds. The Hub will be available to all beginning in July for summer school.

Check out the Discovery Day link for some other creative and fun ideas! On the main Cromer webpage will be a link for Summer Discovery Day Activities, too.

Specials:

Please check the special area teacher's webpages for more resources and activities!

Mrs. Fishel, Art (Also has a GoogleClassroom - code sent in email)

Mrs. Mccoy, Reading Specialist

Mrs. DiVittorio, Science (Also has a GoogleClassroom - code sent in email)

Mrs. Knott, School Counselor (Also has a GoogleClassroom - code sent in email)

Feel free to e-mail at jedwards2@fusd1.org if you have any questions or concerns.

Enjoy your summer and be safe!