Fax (928) 773-4086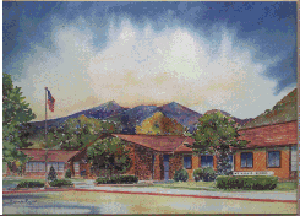 Watercolor by Roberta Rogers
Killip Mission
The mission of W.F. Killip Elementary School is to provide each child an equal opportunity to achieve their highest potential. We will offer developmentally appropriate challenges and experiences for social and academic growth in a positive, safe environment. By continuing collaborate relationships between parents, students, staff, and community, we will maintain open channels of communication through mutual respect.
W.F. KILLIP ELEMENTARY SCHOOL AND COMMUNITY LEARNING CENTER
"PERSONAL MISSION STATEMENT"
By Joe Gutierrez

Dear Parents, Guardians, Students, Staff and Community,
As we approach the 2016-2017 school year, I would like to take this opportunity to welcome you and thank you for your desire to be a part of our great educational team. It is through our dedication and compassion that we will strive to educate our children, one student at a time.
As the educational leader of this school, it is my commitment to the students, to the parents, to the staff and to the community, to support the educational program of each child, so that they have an opportunity to reach their highest potential.
As a member of our team, I challenge each student to develop both short and long term goals and to do their best to achieve these goals. I challenge each parent to work with our children in developing these goals and to encourage and support their endeavors. I ask the staff to identify the individual needs of each and every student, to help each child realize their strengths and their goals, and to work with each child to help them reach their highest potential by providing well planned lessons, which are rigorous and relevant, and includes research based teaching strategies. I challenge the community to become an integral part of our team, to become involved in our day to day operation, but most importantly to support the educational system as a whole.
Our goal is to provide a quality education to each and every student that walks through our doors. This task can be accomplished, if as a team, we commit ourselves to be an active part of our educational plan. I applaud your commitment to our children, as we work towards supporting each and every child and their dream to become an integral and contributing member of our society.
School Report Cards: 2002 - 2003 to Most Current school year available from AZ Department of Education Website at https://azreportcards.com/
W. F. Killip School Report Card for 2006 - 2007
W. F. Killip School Report Card for 2005 - 2006
W. F. Killip School Report Card for 2004 - 2005
W. F. Killip School Report Card for 2003 - 2004