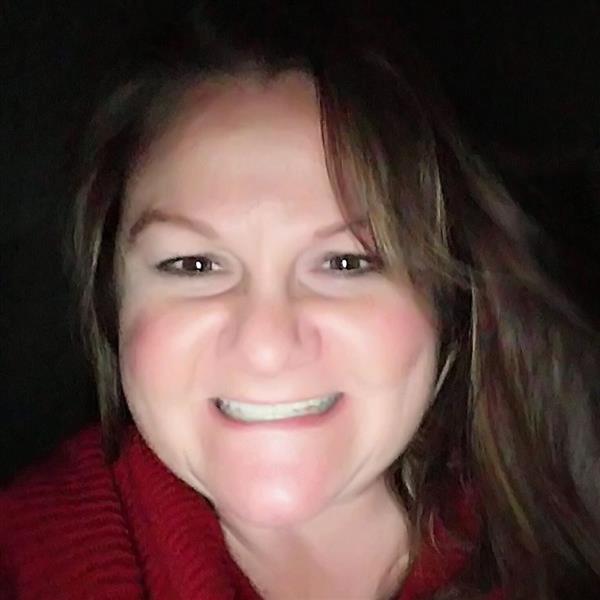 Phone: (928) 773-8200 x 6456
Email:
Degrees and Certifications:
B.A. Communication from Arizona State University Secondary Education Certification in English Language Arts,History, Government, and Economics
Mrs.

Jeanette Chasan
Welcome to Sophomore English Language Arts
Congratulations!! You survived your unconventional first year of high school and are about to plunge into your sophomore year. I'm excited about the opportunity to get to know each of one you and am looking for ways for us all to be connected even though this first quarter we'll only be seeing each other through a computer screen. Despite the challenges due to the Covid-19 threat, I'm looking forward to a fun and productive school year.
I want to take this opportunity to tell you a little bit about myself. This is my fourth year living in Flagstaff and I love it…except the skunks. Why are there so many? Why does my dog seem to attract them? He's already been sprayed 3 times. So far he has managed to not get sprayed this year. Growing up in Chandler, AZ we didn't have skunks, but we didn't have the gorgeous summers either. My family and I love that we can walk, hike, or sit outside in the summer without having heat stroke. We also enjoy the changing seasons and the snow.
I have two teenage sons who also attend Coconino; one is a junior and the other is a senior. Our 8 year old dog who we've had since he was 4 months old, was named "Chewbacca" by our sons but we call him Chewy.
This is my fifth year teaching and my third year teaching at Coconino High School. Though three years of my teaching experience were in the Social Studies department, this is my second year teaching sophomore English. I enjoy teaching English and look forward to teaching it again this year because I'm a bit of a grammar nerd as well as an avid reader and writer and want to pass this love of words on to my students.
I look forward to this unusual but exciting year.
Mrs. Chasan
Book List
by Marjane Satrapi Year Published: 2000 Autobiography, Graphic Novel

From Goodreads.com

Persepolis: The Story of a Childhood

A Time Magazine "Best Comix of the Year"
A San Francisco Chronicle and Los Angeles Times Best-seller

Wise, funny, and heartbreaking, Persepolis is Marjane Satrapi's memoir of growing up in Iran during the Islamic Revolution. In powerful black-and-white comic strip images, Satrapi tells the story of her life in Tehran from ages six to fourteen, years that saw the overthrow of the Shah's regime, the triumph of the Islamic Revolution, and the devastating effects of war with Iraq. The intelligent and outspoken only child of committed Marxists and the great-granddaughter of one of Iran's last emperors, Marjane bears witness to a childhood uniquely entwined with the history of her country.

Persepolis paints an unforgettable portrait of daily life in Iran and of the bewildering contradictions between home life and public life. Marjane's child's-eye view of dethroned emperors, state-sanctioned whippings, and heroes of the revolution allows us to learn as she does the history of this fascinating country and of her own extraordinary family. Intensely personal, profoundly political, and wholly original, Persepolis is at once a story of growing up and a reminder of the human cost of war and political repression. It shows how we carry on, with laughter and tears, in the face of absurdity. And, finally, it introduces us to an irresistible little girl with whom we cannot help but fall in love.

by William Golding Year Published: September 17th 1954 Classics, Fiction, Dystopia

From Goodreads.com

Lord of the Flies

At the dawn of the next world war, a plane crashes on an uncharted island, stranding a group of schoolboys. At first, with no adult supervision, their freedom is something to celebrate; this far from civilization the boys can do anything they want. Anything. They attempt to forge their own society, failing, however, in the face of terror, sin and evil. And as order collapses, as strange howls echo in the night, as terror begins its reign, the hope of adventure seems as far from reality as the hope of being rescued. Labeled a parable, an allegory, a myth, a morality tale, a parody, a political treatise, even a vision of the apocalypse, Lord of the Flies is perhaps our most memorable novel about "the end of innocence, the darkness of man's heart."

by Elie Wiesel Year Published: 1956 Nonfiction, Memoir, Autobiography, History

From Goodreads.com

Night

by Elie Wiesel, Marion Wiesel (Translator)

Born in the town of Sighet, Transylvania, Elie Wiesel was a teenager when he and his family were taken from their home in 1944 to Auschwitz concentration camp, and then to Buchenwald. Night is the terrifying record of Elie Wiesel's memories of the death of his family, the death of his own innocence, and his despair as a deeply observant Jew confronting the absolute evil of man. This new translation by his wife and most frequent translator, Marion Wiesel, corrects important details and presents the most accurate rendering in English of Elie Wiesel's testimony to what happened in the camps and of his unforgettable message that this horror must simply never be allowed to happen again.

https://www.goodreads.com/book/show/1617.Night

About the author:

Eliezer Wiesel was a Romania-born American novelist, political activist, and Holocaust survivor of Hungarian Jewish descent. He was the author of over 40 books, the best known of which is Night, a memoir that describes his experiences during the Holocaust and his imprisonment in several concentration camps.

Wiesel was awarded the Nobel Peace Prize in 1986. The Norwegian Nobel Committee called him a "messenger to mankind," noting that through his struggle to come to terms with "his own personal experience of total humiliation and of the utter contempt for humanity shown in Hitler's death camps," as well as his "practical work in the cause of peace," Wiesel has delivered a powerful message "of peace, atonement and human dignity" to humanity.

On November 30, 2006 Wiesel received an honorary knighthood in London, England in recognition of his work toward raising Holocaust education in the United Kingdom.