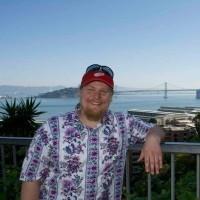 Phone:
Email:
Degrees and Certifications:
Mr.

Bobby Woodruff

Hello!

My name is Mr. Woodruff and I will be teaching 8th-grade science, 8th grade honors science, and oceanography this school year.

I am very excited to be a part of the Sinagua Middle School family and I look forward to working with students, parents, and other stakeholders this school year.

To start the 2020-2021 school year, we will be using the learning management system Canvas to access all Zoom meetings, assignments, and course materials.

Students will need to log into the Canvas and Zoom iPad apps using their school ID number @fusd1.org (example: 8675309@fusd1.org) using the same password set up for their StudentVUE accounts.

Once students are logged into Canvas and have entered the appropriate course, they can click on the Zoom link on the left-hand side of the page to access the Zoom meetings.

You will need to log into the Zoom App using the instructions found on the SMS Library Page titled iPad Help. If you need more help with your iPad or logging into iPad apps, please contact Heather Morgan at 928-527-5580.

Science Kits:

Please remove the contents of the science kit (keeping all supplies safe) and return the plastic tubs this Wednesday, September 2nd, 2020 to Sinagua Middle School, Leupp Elementary School, or the Cameron Chapter house. The materials supplied in the original kit will be used through Friday, September 11th, 2020. The plastic tubs must be returned before the next science kit is sent home. I will update this page and send out a notification through Synergy to let you know when the next kits are ready.

Drop Off Times Are:

Leupp Elementary School: During normal school hours on Wednesday

Cameron Chapter House: Between 10 am and 12 pm Daylight Savings Time (local Cameron time) on Wednesday

Sinagua Middle School: between 1 pm and 6 pm on Wednesday

Science Tutoring:

Science tutoring is offered every Tuesday from 2:50 - 4:00 pm.

Please use this link to join the Zoom meeting.

Please use this link to access the science tutoring schedule.

Tutoring is also available after school with Mr. Woodruff every day except Wednesdays. To participate in tutoring after school with Mr. Woodruff, simply set up a time and date with him.

I encourage students and parents/guardians alike to reach out for further communication. I offer office hours upon appointment for meetings, and you may use my email address and Sinagua phone number (listed below) to contact me at any hour and I will respond at my earliest convenience.

Please note: Further updates will come to this page that hopefully continue to make your school year a bit easier to navigate!

Stay Safe!

Robert (Bobby) Woodruff
8th Grade Science
Oceanography
Sinagua Middle School
rwoodruff@fusd1.org
928-527-5500 Extension 6904

Please note that this page is still under construction and will be updated regularly.