Return to Headlines
Flagstaff Community STEM Night 3/9/2020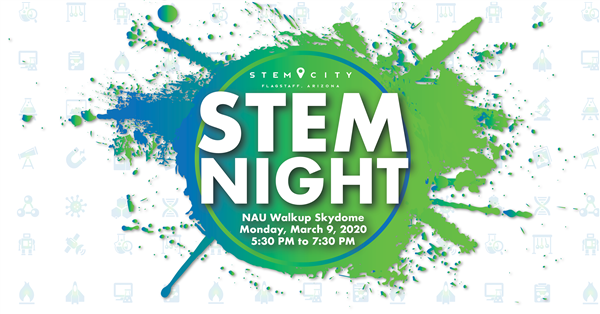 The seventh annual Flagstaff Community STEM Celebration will be held on Monday, March 9, 2020, from 5:30 p.m. to 7:30 p.m. at the Walkup Skydome located on the Northern Arizona University campus. The event is a community event supported by various community partners to bring families together for participatory events promoting Science, Technology, Engineering, and Mathematics (STEM).
"Event attendees can expect a lot of hands on experiences and the opportunity to learn more about what is happening in our community," said STEM City Executive Director Kristine Penca. "We want our kids to see how what they learn in school can lead to real world opportunities."
STEM Night is a free one-night event aimed at sharing Science, Technology, Engineering, and Mathematics learning opportunities while celebrating all of the people and organizations that make Flagstaff a STEM city. Participants will get to explore STEM with hands on activities and giveaways highlighting opportunities throughout the community.
"We are incredibly grateful to Northern Arizona University for the opportunity to host this event at the Walkup Skydome," said Flagstaff Unified School District Communications Director Zachery Fountain. "This is truly a unique community event with over 80 participating organizations showing how science, technology, engineering, and mathematics can work hand in hand."
The event is made available for free to the public with the support of Northern Arizona University, Arizona Public Service, CAVIAT, Rehabilitation Hospital of Northern Arizona, McCarthy Construction, the Flagstaff Unified School District, Mr. Kenneth Lamm, Dr. Robert Braudy, Peak Engineering, and Lowell Observatory through their sponsorship of the annual event.
Guests can park between 5:30 p.m. and 7:30 p.m. in lots P66, P65 or P64 and must be in any non-reserved stall (between two white lines). Those with an ADA plate or placard may use the ADA spaces in P66. Bus transportation will be available from the parking lots to the Walkup Skydome.