Return to Headlines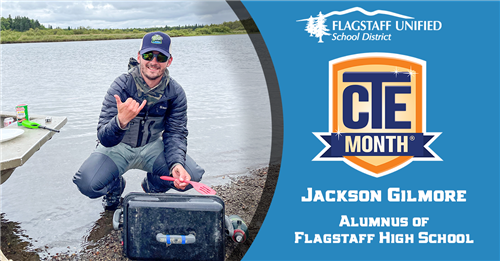 February 21, 2023
In celebration of CTE Month, we are featuring some FUSD alumni. Meet Jackson Gilmore, an alumnus of Flagstaff High School (FHS), a graduate of Oregon State University, and now a fishing guide and hospitality manager at Angler's Alibi Alaska.
Jackson's culinary story started in his freshman year.
"I had just moved to Flagstaff from Sedona, and [I] was registering for classes with my dad and counselor. We were a week out from classes starting, so most of the electives were already full," said Jackson. "I decided to do woods and culinary. I found a love for cooking and competition during my time at FHS. I was exposed to the larger kitchen at FHS during my sophomore year, where I was introduced to Patti Pastor and her connection to C-CAP, Careers through Culinary Arts Program."
Jackson explained that C-CAP is a culinary competition focused on developing young individuals into great cooks. C-CAP recognized Jackson's potential as a cook and a professional in the workplace.
"My senior year, I won the U.S. Foods Scholarship, and [I] attended Oregon State University, where I graduated this past June 2022," he said. "I work as a fishing guide and hospitality manager for Angler's Alibi Alaska. I love my work and would have never made it to Alaska without my culinary background. Culinary at FHS opened doors for me and still does to this day. I hope if anyone is presented with the opportunity to go outside [of] their comfort zone and try a CTE class, they [should] do so."
---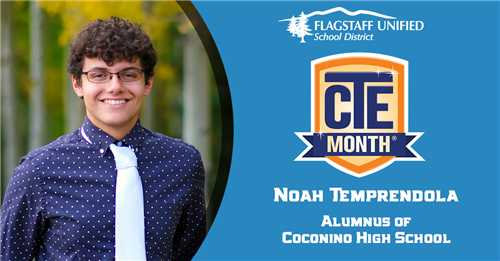 February 17, 2023
In celebration of CTE Month, we are featuring some FUSD alumni. Meet Noah Temprendola, an alumnus of Coconino High School (CHS) and now an undergrad at Embry Riddle Aeronautical University majoring in Mechanical Engineering with a Robotics track.
Noah said he is having "a lot of fun" at Embry Riddle.
"I'm excelling in my field with the backbone expertise I learned in CIT [at Coconino High School]," he said. "I can't thank the program enough, but something I plan to do in the meantime [is] teach Mr. Tessmer some new SolidWorks tricks!"
Noah explained that he often questioned what he wanted to do with his life after high school.
"It's a hard question to answer, and I had no clue where to start," said Noah. "When I toured Coconino High School and discovered CIT, I knew I had to apply. The first day in the classroom made me realize I made the right choice. I found machinery, concepts, and projects that all interested me. From day one, I utilized the tools that were provided."
David Tessmer, engineering and CIT instructor at CHS, was influential in Noah's journey.
"Mr. Tessmer is an incredible teacher. He taught me things that I will never forget," said Noah. "[The knowledge] stuck in my brain because of his fun teaching style. He introduced me to SolidWorks, a 3D modeling software, [and it] became the bread and butter of my projects."
Noah uses the SolidWorks software inside and outside of CIT.
"I am particularly proud that I was the first student at Coconino [High School] to become SolidWorks certified," he said. "Becoming certified was a huge step forward in engineering. At this point in my CIT career, I knew I wanted to pursue an engineering degree… I knew what I wanted to do because of CIT."
Noah applied to Embry Riddle Aeronautical University shortly before graduating from CHS and was admitted. He received a scholarship based on his CIT project experience.
"In classes, [the CIT experience] has proved to be a great foundation for my degree in Mechanical Engineering, with a Robotics track," he said.
---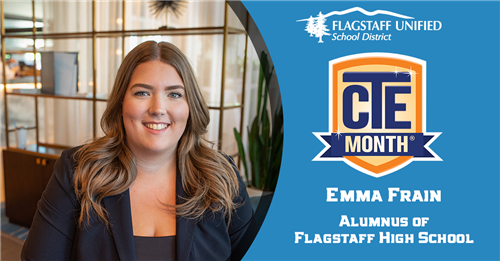 February 14, 2023
In celebration of CTE Month, we are featuring some FUSD alumni. Meet Emma Frain, an alumna of Flagstaff High School (FHS) and now a catering sales manager at Mountain Shadows Resort in Paradise Valley/Scottsdale, Arizona
Emma explained that the culinary program at FHS was the catalyst for her career in the food and beverage industry.
"In class, we learned all the basics, techniques, and culinary skills," said Emma about her introduction to culinary arts at FHS. "And needless to say, I was hooked."
Emma joined Patti Pastor's culinary competition team, and she competed in the Career Through Culinary Arts Program Competition.
"As a senior, I took first place in the competition, and [I] was awarded a full tuition scholarship to Johnson & Wales University in Providence, Rhode Island, for four years," she said. "At Johnson & Wales, I began learning more in-depth about food and beverage. I was able to go on several study-abroad trips, including a culinary internship in [the] Turks and Caicos [Islands], studying Spanish in Sevilla, Spain, and studying wine in New Zealand under a master sommelier."
Emma eventually graduated with a Bachelor of Science degree in Culinary Nutrition Food Science with a Sommelier Minor at Johnson & Wales.
"I became emersed in the world of wine, and upon graduating, I took the Court of Master Sommeliers Introductory Exam, and [I] achieved my first-level Sommelier Certification," said Emma. "I now work at Mountain Shadows Resort, [where] I was the restaurant manager and floor sommelier for two years, conference services manager for a year, and now work as a catering sales manager."
"The culmination of all these life experiences and where I am today would not be possible without the CTE Culinary Program at FHS," Emma said.
---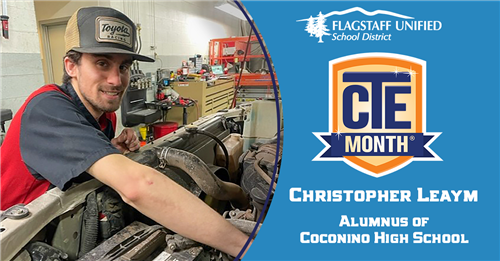 February 10, 2023
In celebration of CTE Month, we are featuring some FUSD alumni.
Meet Christopher Leaym, an alumnus of Coconino High School (CHS), who now works as a car technician at Findlay Toyota in Flagstaff, Arizona.
Christopher explained that he took Auto 1, 2, and 3 with Brian Locke at CHS in the CTE Program.
"I fell in love with this industry my freshman year of high school when I took Mr. Locke's auto program," said Christopher. "I stayed with the program throughout high school. [I've] been a technician for Toyota for three years now since [graduating] high school, [and] I love what the field has to offer and the non-stop learning experience."
---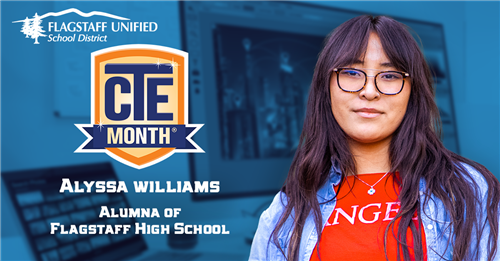 February 7, 2023
In celebration of CTE Month, we are featuring some FUSD alumni.
Meet Alyssa Williams, a Flagstaff High School alumna and now a sophomore at Laguna College of Art and Design, majoring in graphic design and digital media.
Alyssa explained that the CTE Graphic Design Program at Flagstaff High School allowed her to build a strong foundation and understanding of design.
"The program was highly supportive, and [it] encouraged me to advance my skills… allowing me to create a portfolio that got me accepted into an art school," she said. "I was provided with all the tools to become successful and confident with my creativity."
"I am very appreciative of the people and staff involved with the program who helped me grow and pushed me to achieve my goals," she added.
Her CTE teacher was Kayley Quick, who teaches graphic design at Flagstaff High School.