Ed Tech Spotlight - Luis Melo
Posted by Heather Zeigler on 1/11/2019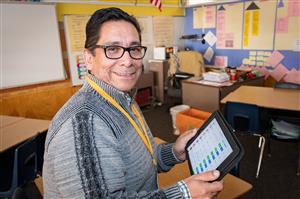 As part of Flagstaff Unified School District's continued pursuit of providing effective learning environments, the Instructional Technology Team will be featuring educators who are using technology to enhance student learning. Our first feature is a conversation with Luis Melo, at Puente de Hózhó Elementary School, who has been recognized as a leader in the district for his efforts to bring future ready learning opportunities to students.
What drives you to integrate technology into your teaching?
Since I started teaching in 1987, I thought I wanted to make a change in the way I was taught. As a language teacher, I wanted my students to be engaged and be part of their learning process. I wanted them to see, use and interact with what they were learning in my classroom each day. I really wanted them to be active learners and not just receptive learners. I personally believe that as an educator I have to find ways to encourage growth and individual learning so students feel prepared for their new real world. Technology integration became part of my classroom with the first double deck radio, the first video camera, the first cell phone, the first IPod, iPad, promethean board, sled board so on and so forth. Although most of these technology tools were not there when I went to school, they are part of today's kids so why not using them if they are accessible and part of today's kids' life?
Can you tell about a favorite lesson/project that was enhanced and/or made possible by technology?
As part of our human body lesson, we used the app, Book Creator, to summarize all the facts we learned during our unit. Students created individual interactive books and added a ton of information they thought was more than interesting for another student to learn. They were able to demonstrate their reading comprehension by accurately adding written organized paragraphs and meaningful illustrations so the book could be interesting to read. Students had to demonstrate they had a clear idea of what their book needed to cover. So, we went over science standards and they double checked the expectations for 5th grade science. Students reviewed their writing and made sure they had accurate information, headings, illustrations on each page, added voices (Spanish) , they sequenced the events and finally added some videos with their favorite rhymes or songs from the different science lessons. Students were able to save their books as videos or a book and shared them with family so they could see it as well. Students showed a deep understanding and comprehension of content and also an incredible knowledge of how to use technology for learning. They want to use this app for every content review now.
How does technology enhance student learning?
As teachers, we all agree that learning should be encouraged. But, it needs to be fun and meaningful as well. Using technology in the classroom is not only enhancing students learning, but also enhancing how teachers teach for today's kids. Memorizing relevant contents, facts or vocabulary is part of education, but it is the how students do it that makes the difference between short- or long-term learning. Technology can expand the way students develop these skills, prepare them to interact with the world, become successful and feel prepared for the future,
Technology helps teachers to connect with students. It enriches lesson plans and it gives teachers time to help students individually. It can be challenging sometimes, but it is more engaging than listening to long lectures or doing extensive readings. Technology will always enrich and improve our students learning outcomes. It is the how we use technology, and the when to include it that makes the difference. Using technology to redefine makes the use of technology efficient not only for students but for teachers as well. I believe that letting students use technology as a tool to improve education and letting students interact with content will improve learning outcomes and it will have a profound impact on students' new way of learning.
How does technology change the way in which students demonstrate understanding?
Teachers- the future is here, now. Our kids present is our future. We dreamed of having web based text books which could include assessments, animations and more interactive tools to help us learn. Those who loved reading spent hours at a library leafing through books and those who did homework spent hours trying to find the right book with the right information. Technology changed the way students can do research. Students access to information is just a click away now. Technology facilitates teachers' ability to meet the needs of all kinds of learners. Students have access to teachers' resources and assignments via the web at anytime. The use of iPads, notebooks, webpages, etc. allow teachers to find new ways to promote learning and it helps students demonstrate their comprehension and mastery of different contents by using their creativity. Students today are manipulating contents and not just acquiring concepts. Technology works when you are able to create and manipulate what you learn in the classroom. Technology today makes sense only if it connects you to real world.
List your top three tech tools you recommend other teachers to try (could be an app, device etc.…):
Book creator
TC studio
Flip Grid
What advice would you give other teachers about integrating technology in their classroom?
Technology today makes teachers' life way easier than in the past. Lesson plans are a click away. Learning tools are a click away. Your personal teaching resources are a click away. Planning ahead and creating clear instructions for when and how to use a new app, web page, e tool or tech tool is essential. Trying something new and exciting is always a great idea. You will be amazed at how students today can do more than what you think with a new tech tool. Being afraid of using technology today is not a great excuse. We need to move on with this new generation of learners and expect incredible results. There is no good reason for a student to have to wait days before having access to a tech-tool. Technology today is part of everyone's life so why not use it for teaching and learning?