Ed Tech Spotlight- Jenny Stearns
Posted by Renda Fisk on 5/28/2019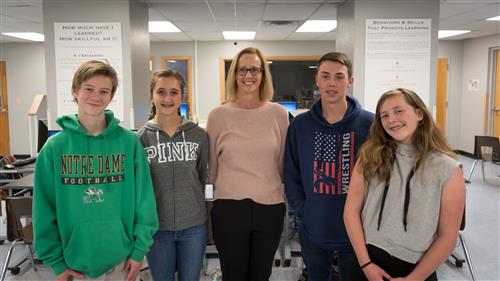 As part of Flagstaff Unified School District's continued pursuit of providing effective learning environments, the Instructional Technology Team will be featuring educators who are using technology to enhance student learning. Our final feature for the 2018-2019 school year is a conversation with Jenny Stearns, a Computer Technology & Computer Science teacher at Mount Elden Middle School. She has been recognized as a leader in the district for her efforts to bring future ready learning opportunities to students.
What drives you to integrate technology into your teaching?
Since I teach computer classes, it is very easy for me to integrate technology into my teaching every day. I teach computer technology and computer science classes. In the computer technology classes, students learn useful digital literacy skills that will enable the students to be successful in the future. Technology helps develop these skills through creating presentations, learning to differentiate between reliable and unreliable sources, and maintaining proper online etiquette.
In the computer science classes, the students are working in an introductory computer science course (Code.org) that allows the students to engage with computer science with opportunities for demonstrating creativity, communication, critical thinking, and problem solving – all while having fun.
Can you tell about a favorite lesson/project that was enhanced and/or made possible by technology?
The computer technology classes work on a Genius Project at the end of the semester. The students are given a specified budget to plan a trip. They must document this plan in a platform of their choice based upon the skills they have learned throughout the semester. This project based learning approach integrates every core content area into the technology project. The students must stay within a budget. The students also must research and document their trip, use mapping skills in planning the trip, and research the climate for the specified location.
With respect to the computer science classes, the students spend a significant amount of time coding a game of their choice in the Code.org platform. While creating these games, the students become computational thinkers, knowledge constructors, and innovative designers. Once the games are created, the students participate in a gallery walk with their classmates. The students enjoy showing off their amazing work, as well as, analyzing what their classmates have created.
How does technology enhance student learning?
When students have lessons/projects that relate to their daily lives, real life experiences, or topics they are interested in, the students are engaged in learning and have a better knowledge retention. In the computer technology classes, I have designed a technology curriculum that creates opportunities to enhance learning by making it fun and relatable to their lives which encourages a more active participation. This is also true with the computer science classes. In computer science, the students create games, develop apps, and code circuits. These lessons and projects connect to how students spend their time outside of school, so providing them opportunities during school to further explore their interests enhances learning while having fun and being creative at the same time.
How does technology change the way in which students demonstrate understanding?
The projects I assign the students in both the computer technology classes and the computer science classes follow a project-based learning approach. This approach allows students the freedom to explore their own interests and strengths within the structure of a project. When students are provided this freedom of individual learning, student understanding and performance increases.
List your top three tech tools you recommend other teachers to try (could be an app, device, etc…):
1.Code.org is a free computer science curriculum for all skill levels.
2.Google Classroom and/or Microsoft Office
3.Sphero Edu is a coding app for Sphero robots. The students can create, contribute and learn coding with Sphero robots, as well as, applying STEAM activities.
What advice would you give other teachers about integrating technology in their classroom?
Try something new! There are many online resources available to help teachers improve and enhance their teaching by integrating technology. I am very excited to see the roll out of one-to-one technology devices for our school district. This is a great opportunity for all teachers to integrate technology into their classroom to enhance students' learning.