We hope you will take the time to apply for the program! If you would like to, below are the parts you need to complete to apply. The deadline is March 4th. Please let

Mrs. Garcia

or

Mr. J Smith

know if you have ANY questions!

If you are currently enrolled at CHS, you can find the application on Canvas in your HR Course. If not, all of the steps are listed below.

Please complete this form as your first step in applying to be a

Link

Leader! In it, you will find personal information questions along with some short answer questions.

In your own handwriting, write a response to the following prompt and email an image of the essay to Mrs. Garcia @ ggarcia@fusd1.org.

NEW APPLICANTS: In your own handwriting, write a half to a full-page essay titled, "Why I would like to be a

Link

Leader." Once complete, send an image of your essay to Mrs. Garcia.
RETURNING

LINK

LEADERS: In your own handwriting, write a half to a full-page essay titled, "Why I want to return to

Link

s and what I will do differently next year to improve/enhance myself and the

Link

s Program? Once complete, send an image of your essay to Mrs. Garcia.

Email your picture along with your essay to Mrs. Garcia.

Have a parent/guardian complete this form.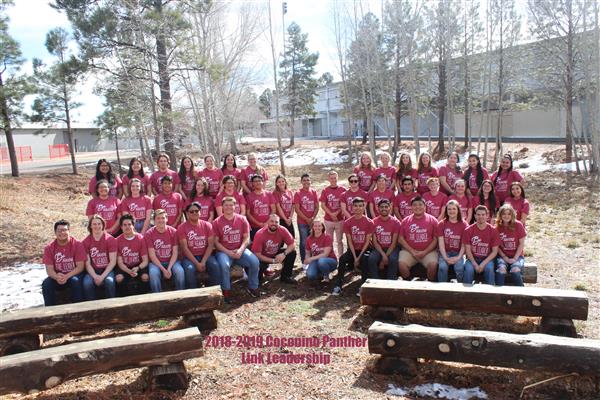 Link Leadership Program

EST. 2004

Coconino High Schools' Link Leadership ("Links") 9th-grade Transition/Mentoring Program creates a safe and positive learning environment for freshmen students transitioning into high school by fostering healthy social behavior, academic success, responsibility towards self and others as well as individual accountability. Selected junior and senior students serve as mentors to all freshmen students for the entire school year. Each Link Leader is assigned to a Crew of 10-15 freshmen whom they give their guidance and assistance throughout the school year for academic and social purposes. Link Leadership begins the year with Freshmen First Day that includes the entire incoming class of freshmen. After the opening assembly students are divided into crews who then meet in separate classrooms for small group orientation activities led by the Link Leaders. The focus of these activities includes getting to know other students and learning strategies for being successful throughout their high school career. Throughout the school year, Coconino High School's Link Leaders continually lead new student tours, Academic Follow-Ups (special academic lessons taught in all freshmen classes by Link Leaders; topics include making choices, using resources on campus, dealing with peer pressure, looking at your future, understanding, and acceptance of others, etc.), Social Follow-Ups (events on campus attended by freshmen and Link Leaders to help students and leaders stay connected), and Initiated Contacts which are individual or small group contacts made to freshman crews by their Link Leader. These contacts are intended to help support academic and social situations. Link Leaders are also encouraged to donate their time to various community organizations outside of school such as food banks, community events, blood drives, tutoring, Adopt a Family, Special Olympics, volunteer coaching, and SO MUCH MORE.